The Story Behind Will Bynum's Fake Shammgod And The Mutual Respect Between Him And Mike Taylor
By BIG3 March 25, 2020
The back story between two fierce competitors and one of the most memorable games of the season.
Mike Taylor is one of the rising stars in the BIG3. From his "GHOOOOSTTT" chants to his intensity and passion on both sides of the ball, he brings an energy to his team and the league. Most known for being the first D-League (now, G-League) player to be drafted into the NBA, Taylor has been a spark plug for the Ghost Ballers.

"I wasn't considered the best player in my state," Taylor said in regards to his early career. "I was one of the smallest players early-on and in third grade, I remember the coach not picking me to play because of my size. It always stuck with me. I've had a chip on my shoulder ever since."
He doesn't possess one signature move but a handful of exhausting and exhilarating plays. From cranking through screens, flashing through traffic, finding open teammates, diving to the ground for loose balls and nitpicking at an opponent, he's not always present in the box score. But visually, you can't take your eyes off of him because he's involved in everything Ghost Ballers do.
"His energy, athleticism and motor is off the charts," Reggie Theus, Bivouac's coach who also coached Taylor in the D-League said.
However, when you're tasked with being that player in a three-on-three setting, you'll likely have moments that stick out – both good and bad.
In week 2 of the 2019 season, it was just that. Bivouac and Chicago's own Will Bynum were facing up against Taylor and the Ghost Ballers. An intense battle featuring an individual crosstown rivalry that goes back for Taylor and Bynum. Taylor from Milwaukee, Bynum from Chicago.

"When I was playing in junior college a lot of my teammates from Chicago used to talk about the legend of Will Bynum," Taylor told us. "I always respected what he did and compared myself to him because of his ability to succeed at his size. Being across town from him, I always heard stories and saw his games. One of the best out of Chicago. A legend for sure."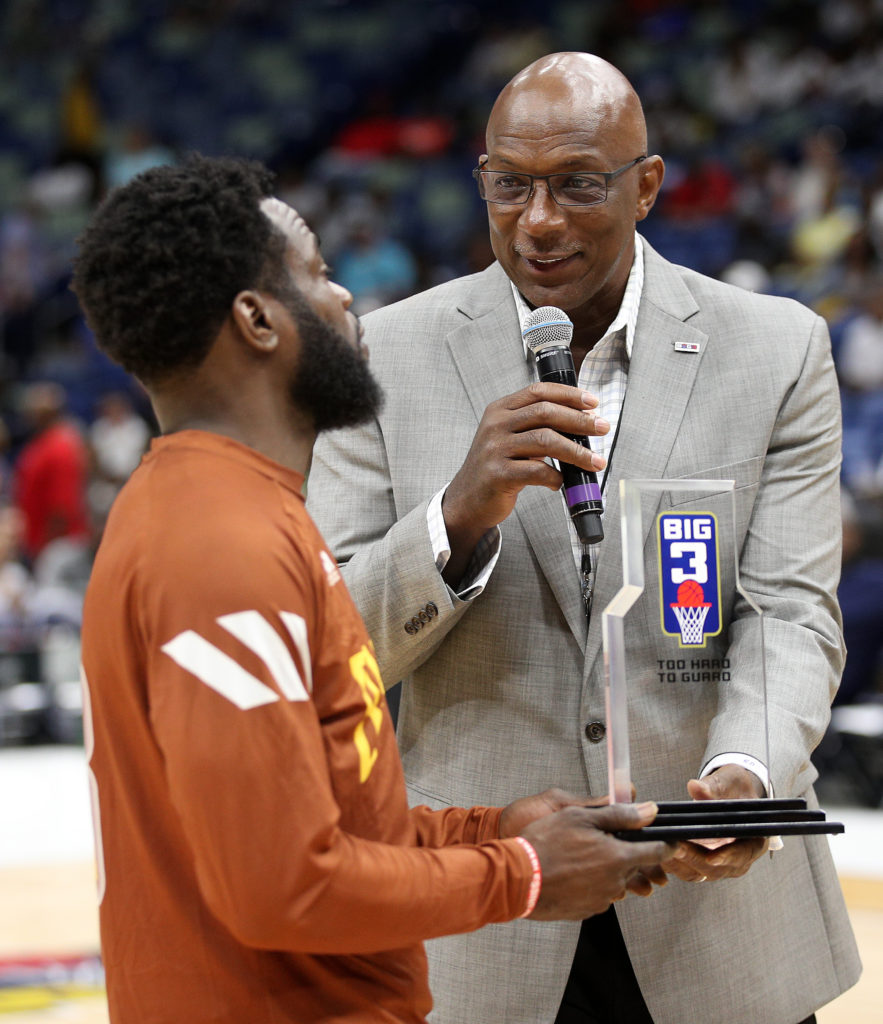 The game between Bynum and Taylor's teams didn't disappoint. A back-and-forth affair between two evenly matched teams, it was all BIG3 fans could ask for. At 36-35, Bivouac and Bynum were up and at the top of the key was Bynum being guarded by Taylor. Then, Bynum dribbled a few times into what would be dubbed many different names.

"I've done it for years," Bynum told us on the move. "China is where I originally brought it out in a preseason game and I always drilled it and used it as a counter when people would bite for the Shammgod. I knew Taylor was aggressive on defense and would think I was gonna snatch it back like the Shammgod but I used one of my many counters I work on off the Shammgod setup."

Whatever it was, it was one of the signature moments in a BIG3 game. As Reggie Theus said "yo-yo and go." Later labeled a fake Shammgod, the move even stunned his defender Taylor.
"When he hit me with that move, I'd never seen nothing like it before." Mike Taylor
Taylor came right back at Bynum on the next play and couldn't make much out of it.
"Bynum broke him, shook him and to his credit, Taylor's effort and mentality never changed."
But, as the game continued, you could see Bivouac start to lose their offensive rhythm. Taylor, who'd been hit with one of the moves of the century, didn't shelter, didn't stop and didn't quit. He came at Bivouac with tenacious, chippy, aggravating defense and sparked Ghost Ballers offensive game plan.

"Defensively, he just never quit and gave maximum effort," Bynum said. "They used that energy to get the win, but this year things will be much different."

Bivouac, who return coach Reggie Theus, Josh Smith and Bynum along with adding Marreese Speights will certainly be a changed team. But the battles between Bynum and Taylor are always with mutual respect and love.
"Respect is earned not given," Bynum told us. "When you look at Mike Taylor's past, upbringing and what he had to overcome to be the man he is today, that's something that he earned. On the court, his never die mentality is what makes him who he is. So when you say what kind of respect I give him, it comes in many forms."
Coach Theus credits his team for not letting this loss define their season. In the second game of the season, with a new expansion team, he knew this could go south.
"I really credit our team for stepping up in that moment after the game," Theus told us. "We came together and it really changed our season for the good. I credit Will, Josh and our team for handling the loss and figuring out ways we could all be better."
In terms of next season, Bynum and Theus seem to be on the same page. They know they have the talent and can challenge for the title, if they put the right pieces into place.
"We have a championship combination," Theus said. "We just have to put it all together on the court."