Via DOOMbot Blog: The Basics of The BIG3
By DOOMbot June 10, 2022
Check out the whole Doombot Twitter Thread Breaking Down the Article to Follow:
I'm a part of the DeGods community.
On April 28th, we were the first web3 organization to announce a purchase of a team in the Big3 basketball league.
Within our core web3 space of crypto and NFTs, the overwhelming consensus following the announcement considered it a mistake. The floor for our NFTs (minimum price to purchase one) dropped approximately $8,000 in one week, and then another $8,500 one week later.
(We've since retained our spot as the #1 marketcap brand on Solana, and hit a new all-time high in SOL price, thank you very much).
But the point here is the story behind the price action: the NFT and crypto communities simply didn't get it.
Even when GaryVee, Bored Ape Yacht Club, Moonbirds, Snoop Dogg, MyDoge Wallet and Krause House joined in, the prices didn't budge.
The dichotomy was remarkable: the industry that bought these teams largely rejected it, while mainstream outlets like Sports Illustrated, Fox Business and The Source jumped all over it.
Months later, we're finally at the point where this experiment moves away from concept and into reality. The timing couldn't be better: the crypto market has absolutely crashed, and live games on CBS with web3 communities featured front and center could be just the spark that gets these markets going again.
All of these debates and arguments have taken away from the real fun here:
Big3 is the most exciting version of professional basketball played in the world. Bar none.
The time for talk is over. It's time to ball.
With all the arguing and FUD within web3, there's been zero attention paid to what we're going to be watching on the court every week.
Right here, right now I'm going to fix that and fill everyone in on why following the Big3 is going to be the highlight of the summer.
Why 3×3?
Anyone who has played basketball regularly in their life has almost certainly played more 3×3 than traditional full court 5×5.
Why? Let's do some quick comparisons:
Baseball is nearly impossible to play properly without massive amounts of organization. It requires a field, helmets, bats, gloves, bases, an umpire and at least eighteen players.
Hockey has an obvious barrier to play. Skates, ice, sticks and everything else involved.
The biggest reason soccer is the most popular sport in the world is that there's hardly any obstacles in the way to get a game going. Ball, two goals, any number of people. All set.
But 3×3 basketball?
Show up on the court with a ball.
That's it.
A proper 5×5 game requires organizing at least ten people, referees, timers and shot clocks. 3×3 is the no frills, raw form of basketball at its very core.
You can show up with two friends ready to play, bring one and pick up a third, or even go by yourself and find a squad.
Everyone wants to play and there's not enough hoops to go around. So you're only getting one.
No referees. Players need to work out on their own what's hard enough to be a foul.
No timer. First to 21 wins.
Winners stay on the court and face the next team. Losers go to the back of the line.
The back to basics simplicity of 3×3 is how most of us grew up playing the game. And every town and city has its landmark parks where players and teams come to prove themselves.
The Rules
Before we go further, let's be clear: 3×3 Basketball is now a Olympic sport. It's legit. But the Big3 league has its own set of rules beyond the shiny sterile setting of an international Olympic stage. This style of play is called Fireball3.
We're talking about a completely different environment that borrows heavily from the very heart and soul of basketball.
Straight up: Big3 basketball is by far the most exciting sports league on television. It's designed to have little downtime, constant action and features plenty of small rules changes that add a distinct, unique and fresh flavor to basketball.
If you're a sports fan? You're going to fall in love.
If sports aren't your thing? Read further and I'm gonna get you psyched.
Half the Court, Shorter Shot Clock
Obvious thing is obvious: the biggest difference is the half court environment.
Unless there's a fast break, standard 5×5 basketball has the team with possession slowly moving the ball up the first half of the court to set up a play. If shots miss and there are rebounds then absolutely, the action gets heated. But a lot of the time spent watching involves the point guard taking his time to get to the half court area.
Yeah. Fireball3 has none of that.
That slow crawl to start a possession is completely gone and the empty walk up the first half of the court in 5×5 is replaced by rules that keep the pace rolling.
Here's how it works: when a team gains possession on a turnover, a player needs to have control of the ball or pass with two feet behind the three point line. Then they roll right into offense.
Because there's one less half of the court in play, the shot clock in Fireball3 is 14 seconds instead of the 24 second clock used in the NBA.
50 Points to Win. No Clock.
Straight up, sports that are decided on a timer can be brutal to watch as a fan. In hockey, soccer and the NBA, a team can easily pull ahead with a lead that's insurmountable with time left on the clock. And if that's not boring enough, the team with the lead can hold the ball, do nothing with it to protect their lead, and drag out the remaining time to lock up the win.
This is why you'll usually start to ignore the Super Bowl game around the second quarter.
Unlike soccer, hockey and football, basketball has frequent scoring. It's a game of momentum.
Even in the NBA with a full court and 24 second shot clock, if a team is down double digits, they can get on a hot streak and score that many in a row to catch up. Even though it's possible and does happen, often enough the margin is too large to close, and there are meaningless minutes to slog through until the inevitable winner officially locks up the W.
Fireball3 throws all that right out the window.
First team to 50 points wins. That's it.
(There is one exception: in the tradition of street ball, a team has to be ahead by two points when they hit 50. Otherwise play continues. No overtime.)
There's no dragging out the clock with a lead. Finish up the game strong or you lose. The team that's behind always has a chance to catch up, and that creates so much drama compared to an NBA game.
There's also far less rapid fire timeouts leading to a barrage of commercials. Each team gets two timeouts per half: a 60 second, and a 30 second.
Halftime happens when one team gets to 25 points.
Those are the major differences you'll notice when watching Big3. There are a whole bunch of smaller rules changes designed to keep the game moving at an aggressive, exciting pace:
Four Point Shots
There are three squares on the court further away from the three point line that give shooters an opportunity to score four points. A player must have one foot in the four point zone to get that bonus.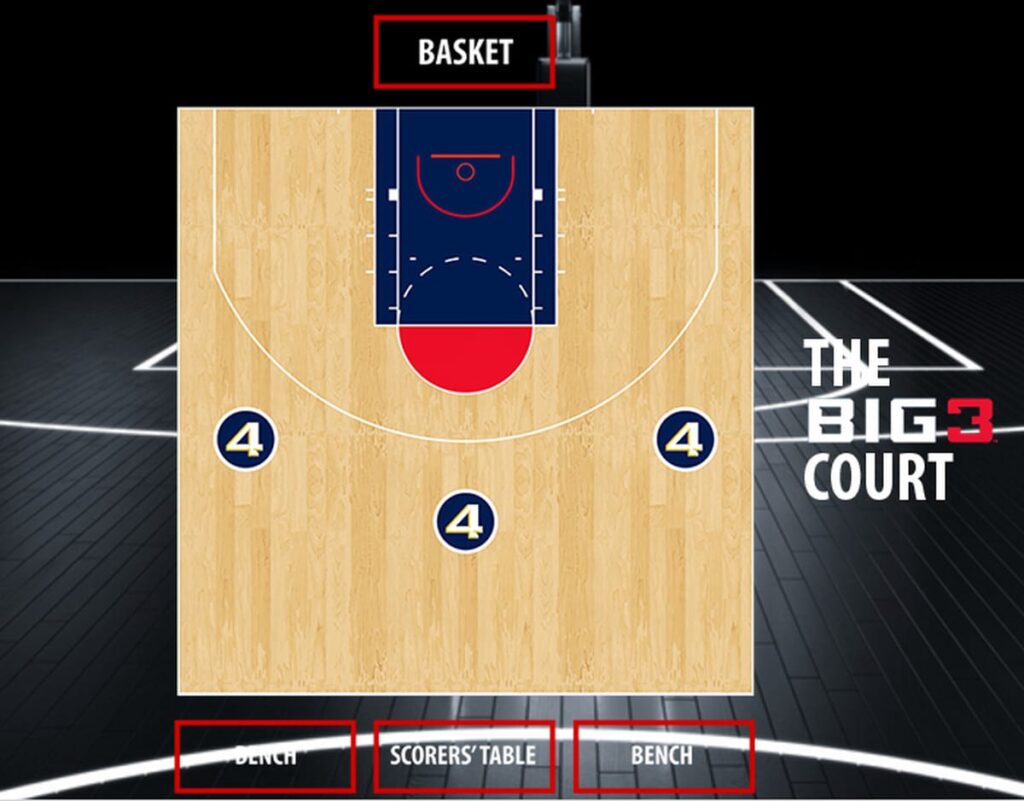 Having this rule available circles back to the element of no game clock. If a team is far behind, they have the tool of a four point shot at their disposal to rally for a comeback.
Fast Turnovers
In most Fireball3 turnovers, a team must clear the ball at the three point line on a new possession. But there are some exceptions.
A clear is not necessary when:
The ball didn't touch the rim on a defensive rebound.
Possession changes on a steal.
In standard 5×5, those turnovers lead to a march back to the other side of the court. In Fireball3, the team that gets the turnover can immediately go to the hoop. A great defensive play can lead to putting points on the board in a matter of seconds.
Bring the Fire
Each team can challenge one foul per half. The players involved then have a one-on-one showdown to first bucket, with the winner getting the call for their team on the foul.
And Four!
When a player is fouled on a shot, they get to take one free throw from that range worth equal points to the shot that was taken.
So if a player is fouled within the two point range, they take a free throw from the foul line worth two points. A foul behind the arch leads to a free throw from three point range for three points, and a foul in four point territory leads to a free throw from there worth four points.
The fouled player gets this bonus free throw even if they make the shot. So if a player gets fouled at the four point mark and still makes their shot, they can pull off an eight point play by sinking a free throw from that distance.
No Fouling Out
Fouls go towards the whole team, so individual players are never fouled out of a game. When a team reaches five fouls in one half, it's a technical foul leading to a two point free throw and possession. Every foul after that in the half results in two free throws worth two points.
Hand Checking
Yup. That's allowed here.
Big 3 Championship History
2017
Champions: Trilogy
Finalists: 3 Headed Monsters
2018:
Champions: Power
Finalists: 3's Company
2019:
Champions: Triplets
Finalists: Killer 3's
2020: Season canceled due to COVID-19 pandemic
2021:
Champions: Trilogy
Finalists: 3 Headed Monsters
The league's championship finals history is bookmarked by a Trilogy vs. 3 Headed Monsters rivalry in the season's first and most recent seasons.
Trilogy is the only team to win two championships, but they've seen a lot of turnover in that five year gap. The 2017 Championship squad was coached by Rick Mahorn, a fixture of the "Bad Boys" era of Detroit Pistons history. Mahorn is back as a coach for the 2022 season, but now leads the Aliens.
The only player still on Trilogy from the 2017 Championship season is James White, a player with stunning elite level dunk skill in both games and competitions.
There's been more continuity with their championship rival 3 Headed Monsters. 2017 Big 3 MVP Rashard Lewis is back on the team for 2022 — the two time NBA All-Star and member of the 2013 Champion Miami Heat hasn't been on the team since that first championship season. He'll reunite with 2017 teammate Mahmoud Abdul-Rauf, who is known for his elite level three point and free throw shooting accuracy.
Gary Payton has been a common thread for the 3 Headed Monsters as a coach, but that will end in 2022. The nine time NBA All-Star Team/All-Defense First Team, and 2006 NBA Champion with the Miami Heat will switch to head up Bivouac in 2022.
2022 Big 3 Rosters
Killer 3's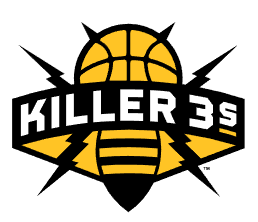 Owner: DeGods
Website:degods.com
Twitter:twitter.com/DeGodsNFT
The #1 NFT Project on Solana, legendary innovators of web3 and craziest community of degenerates treated like royalty by an elite team of non-stop builders based out of Los Angeles, California.
Coach: Charles Oakley
Twitter: twitter.com/CharlesOakley34
Iconic NBA "Enforcer". Specialist in hard-nosed basketball with an emphasis on power, defense and rebounds.
Heart and Soul of the iconic 1990s New York Knicks.
Played in every regular season and playoff game to set the record for starts in a single season (1994)
1994 NBA All-Star and All-Defense First Team
1985 NABC Division II Player of the Year and NCAA Division II Rebounding Leader
Captain: Franklin Session, AKA Frank Nitty
Twitter: twitter.com/FrankNittyY
2021 Big3 League Rankings: #1 in steals, #3 in assists, #3 in blocks, #7 in rebounds.
3x Drew League MVP (2016–2018)
2021 Qatari League Champion, Prince Cup Champion, Emir of Qatar Cup Champion and Qatar Player of the Year
2x Qatar Guard of the Year (2019, 2021)
2x All-Qatar First Team
2018 NBL Canada Newcomer of the Year
2011 First-Team All-CCAA

Certified Magician With a Basketball
Collector of Broken Ankles
Creator of Dunk Posters
Badass Call of Duty: Warzone Player on Twitch
Co-Captain: Donte Greene
Twitter: twitter.com/dontegreeneCOS
2021 Big3 Most Improved Player Award
2021 Big3 Rankings: #2 in total field goals, #3 in total points, points per game and three pointers, #4 in rebounds and four pointers, #9 in rebounds per game
2021 Big3: One of only two players to average more than 20 points and seven rebounds per game
2021 Big3: 33 point/10 rebound game (one point short of Big3 record)
2007 FIBA U19 World Championship Silver Medal
2006 FIBA Americans U18 Championship Gold Medal
Proud Syracuse Orangemen Alumni
Dedicated Ravens Fan
Leader of the Twitter Love Fest Between Killer 3's and the DeGods Community
Co-Captain: Josh Powell
Twitter: twitter.com/JP21Reasons
2x NBA Champion (Los Angeles Lakers, 2009 and 2010)
2018 Big3 Third highest field goal percentage:(.588)
2021 Big3 Third highest field goal percentage: (.632)
(Really the #1 field goal percentage in 2021: #1 and #2 ranked players had less than ten shots on the season.)
2013 FIBA International Cup Champion
2013 EuroLeague Champion
2004 WBA Champion
2002 ACC All-Rookie Team
Founder of 21 Reasons to Give: an organization focused on giving back to youth in communities. Click here to learn more!
3's Company
Coach: Michael Cooper
Twitter: twitter.com/ShowtimeCooper
5x NBA Champion with the 1980s Los Angeles Lakers.
1987 Defensive Player of the Year
5x NBA All-Defensive First Team
As Coach:
2018 Big3 Finalist
2x WNBA Champion (2001, 2002)
2000 WNBA Coach of the Year
2006 NBA D-League Champion
Captain: Mario Chalmers
Twitter: twitter.com/mchalmers15
2021 Big3: Ranked #7 in assists and steals
2x NBA Champion with the 2012 and 2013 Miami Heat
2008 NCAA Champion (Kansas Jayhawks)
2008 NCAA Tournament Most Outstanding Player
2007 Big 12 Co-Defensive Player of the Year
2006 Big 12 Tournament MVP
2019 FIBA Champions League Champion
Co-Captain: Brandon Rush
Twitter: instagram.com/brush_4
2015 NBA Champion (Golden State Warriors)
2008 NCAA Champion (Kansas Jayhawks)
2006 Big 12 Freshman of the Year
3x First Team All-Big 12 (2006–2009)
2008 Big 12 Tournament MVP
Co-Captain: Michael Beasley
Twitter: twitter.com/Michael8easley
#2 Overall Pick in 2008 NBA Draft
2009 NBA All-Rookie First Team
2019 CBA Champion
2x CBA All-Star Game MVP
2008 NCAA rebound leader and First-Team All American
2008 Big 12 Player of the Year, First Team All-Big 12, NCAA Rebounding Leader, Consensus First-Team All-American
3 Headed Monsters
Coach: Reggie Theus
Twitter: twitter.com/ReggieTheus
#9 Overall Pick in the 1978 NBA Draft
2x NBA All-Star
1979 NBA All-Rookie First Team
2007 WAC Tournament Champion (Coach, New Mexico State)
Captain: Rashard Lewis
Twitter: twitter.com/RLewisAcademy
2x Big3 Finalist (2017, 2021)
2017 Big3 MVP
2017 Big3 Scoring Champion
2013 NBA Champion (Miami Heat)
2x NBA All-Star
Co-Captain: Jonathon Simmons
Twitter: twitter.com/ThaRealJsimms
Averaged 17.6 points per game and 49.4% shooting in the CBA
Co-Captain: Mahmoud Adul-Rauf
Twitter: twitter.com/raufmahmoud
2x Big3 Finalist (2017, 2021)
2x Consensus first-team All-American (1989, 1990)
2x SEC Player of the Year (1989, 1990)
1993 NBA Most Improved Player Award
2x NBA season leader in Free Throw Percentage (1994, 1996)
3rd Best single season Free Throw Percentage in NBA history (1994)
Aliens
Owner: West Coast Bill Lee/MyDoge Wallet
Website: mydoge.com
Twitter: twitter.com/MyDogeOfficial
Craft Ventures: craftventures.com
Twitter: twitter.com/westcoastbill
Coach: Rick Mahorn
Twitter: twitter.com/badboyhorn44
2017 Big3 Championship Coach (Trilogy)
2017 Big3 Coach of the Year
Staple of the infamous Detroit Pistons "Bad Boys" 1989 NBA Championship Team
2x WNBA Champion Assistant Coach with the Detroit Shock (2006, 2008)
Captain: Dušan Bulut
Twitter: twitter.com/MrBullutproof
Big3 2021 Rankings: #6 in field goal percentage, #7 in points per game, #9 in three point percentage
Named best 3×3 basketball player of all time in The New York Times and The Wall Street Journal
4x FIBA 3×3 World Tour Champion (2014, 2015, 2018, 2019)
2x FIBA 3×3 World Tour MVP (2015, 2018)
2x FIBA 3×3 World Cup MVP (2016, 2018)
Bronze Medal in 2020 Olympic 3×3 Basketball
4x Gold Medals in 3×3 Basketball World Cup (2012, 2016, 2017, 2018)
2x Gold Medals in 3×3 Basketball European Championships (2018, 2019)
Co-Captain: Kārlis Lasmanis
Twitter: twitter.com/karlispauls
Gold Medal and Top Scorer in 2020 Olympic 3×3 Basketball
FIBA 3×3 World Tour Champion (2020)
FIBA 3×3 2019 World Cup Team of the Tournament
FIBA 3×3 2018 Europe Cup Top Scorer and Team of the Tournament
Gold Medal in 3×3 Basketball European Championships (2017)
Co-Captain: Tamás Ivosev
Hungarian Cup 3×3 Champion
Hungarian League 3×3 Champion
Ball Hogs
Owner: Krause House
Website: krausehouse.club
Twitter: twitter.com/KrauseHouseDAO
Coach: Rick Barry
Twitter: twitter.com/Rick24Barry
Naismith Memorial Basketball Hall of Fame Inductee
Named one of the 50 Greatest Players in NBA History
1965 NBA Draft #2 Overall Pick
1975 NBA Champion and Finals MVP (Golden State Warriors)
8x NBA All-Star
1967 NBA All-Star Game MVP
1969 ABA Champion (Oakland Oaks)
1966 NBA Rookie of the Year
1967 NBA Scoring Champion
1975 Season NBA Steals Leader
1965 NCAA Season Scoring Leader
Captain: Leandro Barbosa
Twitter: twitter.com/TheBlurBarbosa
2015 NBA Champion (Golden State Warriors)
2021 Big Three Season Rankings: #1 in assists and #2 in scoring
2007 NBA Sixth Man of the Year
2007 FIBA AmericaCup Top Scorer
2011 Rio de Janeiro State Champion
2002 Brazilian League Champion
Co-Captain: Will McDonald
Liga ACB Champion
Spanish Supercup Champion
Spanish Cup Champion
Co-Captain: Jodie Meeks
Twitter: twitter.com/jodiemeeks231
2019 NBA Champion (Toronto Raptors)
2021 Big3 Rankings: #3 in three pointers, #7 in points and field goals made, #8 in rebounds and steals and#9 in assists
2009 First Team All-SEC
Set the University of Kentucky Basketball team record for highest single game score (54 points) and single game three point record with ten (both in the same game on January 12, 2009).
Bivouac
Owners: Snoop Dogg and PayPal Co-Founder Ken Howery
Twitter:twitter.com/SnoopDogg
Twitter:twitter.com/KenHowery

Coach: Gary Payton
Twitter: twitter.com/GaryPayton
2006 NBA Champion (Miami Heat)
Naismith Memorial Basketball Hall of Fame Inductee
2x Big 3 Finalist with 3 Headed Monsters (2017, 2021)
2x Olympic Gold Medalist (1996, 2000)
9x NBA All-Star
9x NBA All-Defensive First Team
2x All-NBA First Team
1996 NBA Defensive Player of the Year
1996 NBA Steals Leader
NBA 75h Anniversary Team
Captain: Gerald Green
Instagram: instagram.com/g.green14/
Current Houston Rockets Player Development Coach
2007 Slam Dunk Contest Champion
2012 NBA D-League All-Star Game MVP
2022 NBA G-League Champion
Co-Captain: Will Bynum
Instagram: instagram.com/12thrill
2007 Israeli Basketballl Premier League Finals MVP
2008 EuroLeague Finals Top Scorer
2x CBA All-Star (2015, 2016)
2006 NBA D-League Rookie of the Year
Co-Captain: Ike Digou
Instagram: instagram.com/blackcaesar01
2014 BSN Champion
2013 BSN Center of the Year
2013 BSN First Team
2014 NBA D-League All-Star and Impact Player of the Year
2005 Pac-10 Player of the Year
3x First Team All-Pac (2003–2005)
2017 FIBA African Championship MVP
2015 Gold Medal: Nigerian Team in AfroBasket Continental Championship
Two Olympic Games appearances with the Nigeria National Basketball Team (2012, 2016)
Enemies
Partner/Mascot: Represented by Bored Ape Yacht Club
Website: boredapeyachtclub.com
Twitter: twitter.com/BoredApeYC
Coach: Gilbert Arenas
Instagram: instagram.com/no.chill.gil
2019 Enemies Captain
3x NBA All-Star (2005–2007)
2003 NBA Most Improved Player
2001 First Team All-Pac-10
Captain: Nick Young AKA Swaggy P
Twitter: twitter.com/NickSwagyPYoung
2018 NBA Champion (Golden State Warriors)
2x First-Team All-Pac (2006, 2007)
Co-Captain: Elijah Stewart
Instagram: instagram.com/ebabystew
2021 Big3 Rankings: #4 in three point shots, #5 in blocks, #9 in points and points per game
USC All-Time Leader in three point field goals
Co-Captain: Isaiah Austin
Instagram: instagram.com/isaiahaustin
#1 Overall Pick in the 2019 Big3 Draft
2021 #8 in field goal percentage
2013 NIT Champion
2013 Big 12 All Rookie Team
2014 Big 12 All Defensive Team
2012 McDonald's All-American
Ghost Ballers
Coach: George Gervin
George Gervin Academy: gervin-school.org/
Naismith Memorial Basketball Hall of Fame Inductee
9x NBA All-Star
1980 NBA All-Star Game MVP
5x All-NBA First Team
4x NBA Scoring Champion (1978–1980, 1982)
3x ABA All-Star
ABA All-Time Team
50th and 75th NBA Anniversary Teams
Captain: Ricky Davis
Instagram: instagram.com/tricky12
12 NBA Seasons
2021 Big3 Rankings: #4 in assists and steals
Co-Captain: Mike Taylor
instagram.com/88miketaylor
2021 Big3 Rankings: #2 in assists per game, #4 in assists and three pointers, #5 in points per game and blocks, #8 in field goal percentage and#9 in field goals made
First player in NBA history to be drafted from D-League
Co-Captain: Chris Johnson
Twitter: twitter.com/chrisjhoops
2021 Big3 Rankings: #1 in blocked shots and#5 in rebounds
#2 Overall Pick in 2019 Big 3 Draft
2018 Croatian Cup Champion
2014 CBA Slam Dunk Contest Champion
All-NBA D-League First Team, Defensive Player of the Year, All-Defense First Team and All-Star in 2011
2009 SEC All-Defensive Team
Power
Coach: Nancy Lieberman
Twitter: twitter.com/NancyLieberman
2018 Big3 Champion
2018 Big3 Coach of the Year
Inducted into the Naismith Memorial Basketball Hall of Fame Inductee and Women's Basketball Hall of Fame
1979 Olympic Games Silver Medal
1979 World Championship Gold Medal
Pan American Games Gold Medal (1975) and Silver Medal (1979)
1979 Jones Cup Gold Medal
1984 WABA Champion and MVP
1981 WBL Rookie of the Year
WNBA Coach for the Detroit Shock (1998–2000) and Texas Legends (2009–2011
NBA Assistant Coach for the Sacramento Kings (2015–2018)
Captain: Cuttino Mobley
Twitter: twitter.com/CuttinosLife
2018 Big3 Champion (scored the game winning shot)
2019 Big3 Top 10 in points, assists and steals
2021 Big3 8th in three point percentage
1998 Atlantic 10 Player of the Year
Co-Captain: Royce White
Twitter: twitter.com/Highway_30/
First overall pick in 2019 Big3 draft
2021 Big3 season ranked #8 in rebounds, #4 in rebounds per game
2017 NBL Canada Champion and MVP
2018 NBL Champion and Scoring Champion
2012 Big 12 Newcomer of the Year, All Rookie Team and First Team
Co-Captain: Nikoloz Tskitishvili
Instagram: instagram.com/nikoloz_tskitishvili
#5 NBA Overall Pick (2002)
2002 Italian League Champion
2002 Italian League Supercup Champion
2012 Iranian Super League Champion
2012 WABA Champions Cup Champion
2012 Asia Champions Cup
Trilogy
Coach: Stephen Jackson
Big 3 2019 Finalist as Player (Killer 3's)
Big 3 2021 Championship Coach (Trilogy)
2003 NBA Champion (San Antonio Spurs)
Captain: James White
Instagram: instagram.com/flight8
Only 2x Big 3 Championship Player in League History (Trilogy: 2017, 2019)
2007 NBA Champion (Golden State Warriors)
BSL Champion (2008)
BSL Slam Dunk Contest Champion (2008)
PBL All-Star (2009)
Italian League Top Scorer (2011)
Italian League 3x All-Star (2011, 2012, 2014)
Croatian League and Cup Champion (2016)
EuroChallenge Champion (2014)
Co-Captain: Earl Clark
Instagram: instagram.com/earlclark_
#2 Overall Pick in the 2021 Big 3 Draft
2021 Big 3 Stat Rankings: #9 in rebounds, #5 in blocks, #8 in field goals made
#14 Overall Pick in the 2009 NBA Draft
2009 Big East Champion (University of Louisville)
2019 Montenegrin League and Cup Champion
Co-Captain: Amir Johnson
Instagram: instagram.com/iamamirjohnson
2021 Big 3 Champion (Trilogy)
2018 NBA Hustle Award
2005 McDonald's All-American
Triplets
Owner: Gary Vaynerchuk AKA Gary Vee
Twitter: twitter.com/garyvee
VeeFriends Website: veefriends.com
VeeFriends Twitter: twitter.com/veefriends
Coach: Lisa Leslie
Twitter: twitter.com/LisaLeslie
2019 Big3 Champion
2019 Big3 Coach of the Year
Inducted into Naismith Memorial Basketball Hall of Fame and Women's Basketball Hall of Fame
2x WNBA Champion (2001, 2002)
2x WNBA Finals MVP (2001, 2002)
3x WNBA MVP (2001, 2004, 2006)
8x WNBA All-Star
8x WNBA First Team
3x WNBA All-Star Game MVP (1999, 2001, 2002)
2x WNBA Defensive Player of the Year (2004, 2008)
2004 WNBA Peak Performer
4x Olympic Games Gold Medalist (1996, 2000, 2004, 2008)
2x FIBA World Championships Gold Medalist (1998, 2002)
2002 FIBA World Championships MVP
Captain: Joe Johnson
Twitter: twitter.com/TheJoeJohnson7
2019 Big3 Champion
2x Big3 MVP (2019, 2021)
2019 Big3: #1 in scoring, assists per game and steals per game, #2 in four point percentage, #3 in rebounds per game, #9 in three point percentage
2021 Big3: League leader in points, points per game field goals made. #2 in rebounds, assists, assists per game, steals and three point shots made. #3 in rebounds per game
7x NBA All-Star
NBA All Time Rankings: #46 in scoring, #13 in three pointers, #29 in total games played
2000 SEC Rookie of the Year
Co-Captain: Jeremy Pargo
Instagram: instagram.com/imjustpargo
2021 Big3 rankings: #5 in assists per game
2008 WCC Player of the Year
2009 Sports Illustrated Cover
4x Israeli League Champion (2010, 2011, 2018, 2019)
3x Israeli League Cup Champion (2010, 2011, 2015)
2015 Israeli League assists leader
2010 Israeli Cup MVP
2011 Israeli League Slam Dunk Champion
2016 CBA assists leader
Co-Captain: Jannero Pargo
Instagram: instagram.com/jpargo5
2019 Big3 Champion
2022 Big3 Rankings: #2 in three pointers made
2019 Portland Trail Blazers Assistant Coach
2021 Indiana Pacers Assistant Coach
Tri State
Owners: Moonbirds
Website: moonbirds.xyz
Twitter: twitter.com/moonbirds
Ownership purchase by:
Kevin Rose: twitter.com/kevinrose
Sunny Madra: twitter.com/sundeep
Vinny Lingham: twitter.com/VinnyLingham
Coach: Julius Erving AKA "Dr. J"
Twitter: twitter.com/juliuserving
Naismith Memorial Basketball Hall of Fame Inductee
Sports Illustrated 40 Most Important Athletes of All Time
Godfather of the Slam Dunk
Highlight reel dunks inspired the creation of "posterized" as a phrase
1983 NBA Champion (Philadelphia 76ers)
1981 NBA MVP
11x NBA All-Star
2x NBA All-Star Game MVP
5x All-NBA First Team
NBA 35th, 50th and 75th Anniversary Teams
Most iconic player in ABA history
2x ABA Champion and Playoff MVP(1974, 1976)
3x ABA MVP (1974–1976)
5x ABA All-Star
3x ABA Scoring Champion (1973, 1974, 1976)
ABA Slam Dunk Contest Champion (1976)
ABA All-Time Team
Big3 Championship trophy carries his name
Captain: Jason Richardson
Instagram: instagram.com/richboyz23/
2021 Big3 Rankings: #3 in rebounds and steals, #4 in assists, #5 in rebounds per game, #6 in field goals made, #7 in assists per game, #8 in points and #10 in points per game
2000 NCAA Champion (Michigan State)
2001 First-Team All-Big Ten
2x NBA Slam Dunk Contest Champion (2002, 2003)
2002 NBA All-Rookie First Team
Co-Captain: Justin Dentmon
Instagram: instagram.com/justindentmon
2009 First-Team All-Pac 10
2010 Israeli League Top Scorer
2012 NBA D-League Champion and MVP
2014 LKL Champion, All-Star and All-Star Game MVP
2016 CBA Champion
2019 BCL Scoring Champion
Co-Captain: Larry Sanders
Instagram: instagram.com/thereal_larrysanders
2021 Big3 Defensive Player of the Year
2008 CAA All-Freshman Team
2010 First-Team All-CAA
2x CAA Defensive Player of the Year (2009, 2010)
3x CAA All-Defensive Team (2008–2010)